I am fortunate to write a monthly column for the Middle East's leading lifestyle & food magazine 'Fatafeat' (Arabic word for 'crumbs') .  Below is what I wrote for then in March on good guest graces. 
1) Accept on time!  When you receive an invitation via the post, email or (sadly) Facebook, it is your duty as a guest to reply on time.  Don't dilly-dally as to whether you want to go or not – make your mind up, post haste, and let your host know.  They will want to finalise numbers for catering purposes.  Up to three days is normally your window for replying.
2) Note the dress code.  Even casual invitations on Facebook may come with a word about what you as guests are expected to wear.  Don't play fast and lose with it, stick to what it says.  If a host has been unfair and stated a dress code that no one other than they know what it means then it is perfectly fine for you to call ahead and ask them to clarify.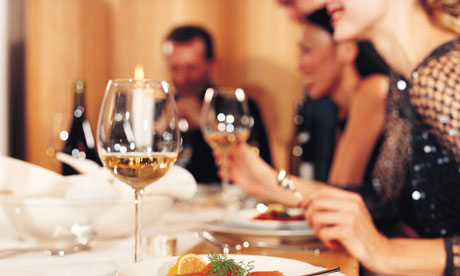 3) Arrive on time!  Did you know that different countries have different expectations when it comes to timekeeping?  In much of the Western world, if an invitation says 7.30pm then good guests will arrive from 7.40pm, arriving no later than 7.50pm.  Yet in other parts of the world, timekeeping is less of priority.  If you have been invited to a Westerner's house then perhaps be aware that you won't be able to get away with arriving forty-five minutes after the printed time.
4) Hostess gift.  Turning up to anyone's house for a party empty handed is very bad form.  If the host has gone to the lengths of putting out the best silver, buffing up the cut-glass goblets and serving delectable munchiettes for you then the least you can do is present something upon arrival to say thank you.  Chocolates are the internationally acceptable gift.  Flowers are good too, but send them in advance so the host can display them ready for the party – rather than have to worry about putting them in water when you arrive: avoid showing up with a job!  Did you know?  If you are attending an event in Japan you could turn up with a steak!
5) Receiving lines.  At some of the grander parties, weddings or balls the guests will be expected to enter a receiving line.  This is where the hosts and principal guests will be lined up and guests presented to each one.  A good way to ensure they see each guest.  What you need to remember is you should not start a conversation with anyone in the line-up.  A few polite words by way of a greeting is all.  'Good evening, thank you for having me' is ideal.  Anymore and your fellow attendees won't thank you as you'll hold up the line.
6) Greeting the host.  For less formal parties, it's a safe bet that there wont be a receiving line.  If your hosts have not greeted you at the door then you should ensure you find them pronto and let them know you're here.  But by all means acknowledge and have the scantest of chats with friends you pass as you make a beeline for the hosts.
7) Mingle!  It's very tempting to stand and chat to one or two guests you are getting on well with all evening, but avoid this.  Talk to as many people as possible.  15 minutes should be the limit for conversation with one particular set of guests.  Good hosts should be circulating too and mixing everyone up.  You never know – your next romance or best friend could be in the room!
8) Knowing when to leave.  The best guests do not stay until the bitter end, however scintillating the socialising may be.  Judge when it is best to leave.  Drinks parties usually last for a couple of hours, so leave twenty to fifteen minutes before the two hours is up.  Dinners will vary based on service, but once the hosts or their staff stop offering things then it's probably a good idea to make tracks.
9) Thank you letters.  These are not a luxury but a MUST!  The best of guests will put pen to paper the day after a party and write to say thank you to the host – even if it was a disaster (although this is where diplomatic phrasing comes into full force!)  One side of writing paper for a party, two sides for when you have been a houseguest.
10) Reciprocal entertaining.  If you have received entertainment from someone, it is polite to reciprocate within six months.  For the socially very popular, I suggest a little log of who you owe hospitality to keep you from forgetting.  If you owe a lot of people a reciprocal party you could always hold a drinks party and/or buffet (rather than numerous smaller dinners) and then your whole list is sorted in one evening.